3% Off
Heavy Duty Industrial Grade Cast Iron Jointer 12 inch
This heavy duty industrial grade cast iron jointer / planer is designed for the continuous use in the factory or in the professional or hobbyist workshop. Its powerful and state of the art induction motor is very quiet and doesn't overheat even if used heavily. This machine can cope with the hardest wood seamlessly.
The tiny well shredded chips due to the helical spiral cutter head are very friendly for the dust extraction system, as they wouldn't clog it, and can be sucked in very easily. This jointer can also be used without dust extraction, as the chips are pushed out downwards to the floor surface and can simply be swept after the operation.
The cast iron fence mechanism can hold the 90 degree angle or any other set angle indefinitely, despite of the vibrations or mechanical pressure from the operator, due to its well engineered design and locking mechanism.
Both infeed and outfeed tables are using parallelogram mechanism, and stay perfectly co-planed to each other. The depth of cut is set very easily by releasing and tightening the knob.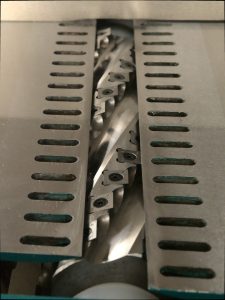 12 inch / 305 mm material width capacity
1850 mm total bed length = infeed + outfeed tables combined
5 mm max single pass cut depth
helical spiral cutter head
2300 W / 3 HP induction motor (220V 2-phase / 380V 3-phase)
cast iron tiltable fence
Description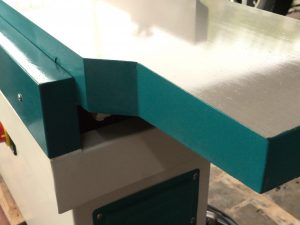 Heavy Duty Industrial Grade Cast Iron Jointer
12 inch / 305 mm material width capacity
5 mm max single pass cut depth
helical spiral cutter head
2300 W / 3 HP induction motor (220V 2-phase / 380V 3-phase)
cast iron tiltable fence
Additional information
| | |
| --- | --- |
| Weight | 4 kg |
| Dimensions | 38 × 15 × 20 cm |